Share the message of the Gospel with your family, friends, neighbors, and co-workers in your own home using these 5 video lessons available in both VHS and DVD, English and Spanish.
Five great lessons:
The Patriarchal Age

The Mosaic Age

The Christian Age

God's Plan for Redeeming Man

History of the Lord's Church
These lessons take students on a journey through the Word of God and provide take-home booklets that allow for easy review and consideration of each lesson.
This is a great tool to help us reach the lost and make disciples.
Find out more about V.B.S. by CLICKING on the
Glad Tidings Publishing button provided below. Get Started Now!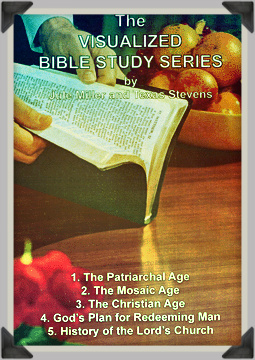 Therefore, go and make disciples of all nations, baptizing them in the name of the Father and of the Son and of the Holy spirit, and teaching them to obey everything I have commanded you. And surely I am with you always, to the very end of the age. (Matthew 28:19-20)
If you would like to set up a time to study using the Visualized Bible Study, please CONTACT US.

"TRANSFORM

One Life

, 

IMPACT
Many" 
Discover
Discipleship